Geography of EGYPT
Egypt lies in the northeastern corner of the African continent and has a total area of about 1 million km2. It is bordered in the north by the Mediterranean Sea, in the east by the Gaza Strip, Israel and the Red Sea, in the south by Sudan and in the west by the Libyan Arab Jamahiriya. Its north-south extent is about 1 080 km, and its maximum east-west extent about 1 100 km. The Egyptian terrain consists of a vast desert plateau interrupted by the Nile Valley and Delta which occupy about 4 percent of the total country area. The land surface rises on both sides of the valley reaching about 1 000 m above sea level in the east and about 800 m above sea level in the west. The highest point of the country, at Mount Catherine in Sinai, is 2 629 m above sea level and the lowest point, at the Qattara Depression in the northwest, is 133 m below mean sea level. The majority of the country area is desert land. Most of the cultivated land is located close to the banks of the Nile River, its main branches and canals, and in the Nile Delta. Rangeland is restricted to a narrow strip, only a few kilometers wide, along the Mediterranean coast and its bearing capacity is quite low. There is no forest land. The total cultivated area (arable land plus permanent crops) is 3.4 million ha (2002), or about 3 percent of the total area of the country. Arable land is about 2.9 million ha, or 85 percent of the total cultivated area, and permanent crops occupy the remaining 0.5 million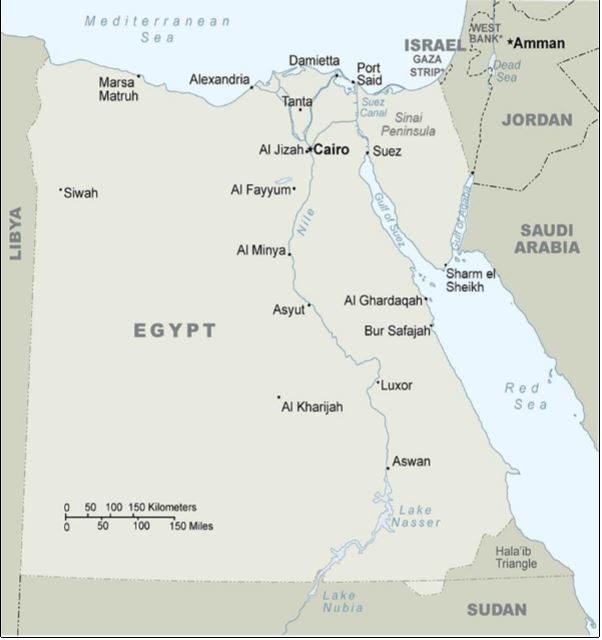 Climate
Hot dry summers and mild winters characterize Egypt's climate. Rainfall is very low, irregular and unpredictable. Annual rainfall ranges between a maximum of about 200 mm in the northern coastal region to a minimum of nearly zero in the south, with an annual average of 51 mm. Summer temperatures are extremely high, reaching 38 °C to 43 °C with extremes of 49 °C in the southern and western deserts. The northern areas on the Mediterranean coast are much cooler, with 32 °C as a maximum. Population is estimated at 73.4 million (2004) with an average annual growth rate of 1.8 percent. The rural population is 58 percent of the total population. Overall population density is 73 inhabitants/km2; however, with about 97 percent of all people living in the Nile Valley and Delta, population density reaches more than 1 165 inhabitants/km2 in these areas, while in the desert it drops to only 1.2 inhabitants/km2. In 1997 it was estimated that 26.5 percent of the Egyptian population was living in poverty. The percentage was higher in rural than in urban areas and the incidence of poverty and "ultra poverty" was highest in Upper Egypt, while a larger absolute number of poor households was found in Lower Egypt because of the concentration of population there. In rural areas, about 29 percent of the population was living in poverty, compared to 23 percent of the urban inhabitants. Inadequate social services, landlessness, small farm size and inadequate off-farm income opportunities are the main causes of rural poverty.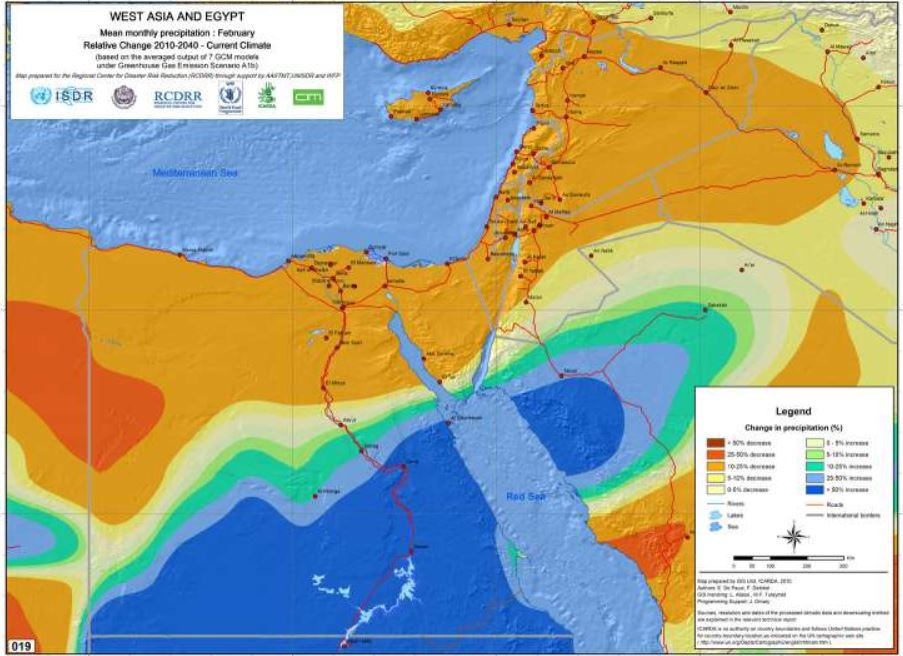 Historical Background
Since 1952, when a cabal of Egyptian Army officers, known as the Free Officers Movement, ousted the British-backed king, Egypt's military has produced four presidents; Gamal Abdel Nasser (1954-1970), Anwar Sadat (1970-1981), Hosni Mubarak (1981-2011), and Abdel Fattah al Sisi (2013-present). In general, these four men have ruled Egypt with strong backing from the country's security establishment. The only significant and abiding opposition has come from the Egyptian Muslim Brotherhood, an organization that has opposed single party military-backed rule and advocated for a state governed by a vaguely articulated combination of civil and Shariah (Islamic) law. Egypt's sole departure from this general formula took place between 2011 and 2013, after popular demonstrations sparked by the "Arab Spring," which had started in neighboring Tunisia, compelled the military to force the resignation of former President Hosni Mubarak in February 2011. During this period, Egypt experienced tremendous political tumult, culminating in the oneyear presidency of the Muslim Brotherhood's Muhammad Morsi. When Morsi took office on June 30, 2012, after winning Egypt's first truly competitive presidential election, his ascension to the presidency was supposed to mark the end of a rocky 16-month transition period. Proposed timelines for elections, the constitutional drafting process, and the military's relinquishing of power to a civilian government had been constantly changed, contested, and sometimes even overruled by the courts. Instead of consolidating democratic or civilian rule, Morsi's rule exposed the deep divisions in Egyptian politics, pitting a broad cross-section of Egypt's public and private sectors, the Coptic Church, and the military against the Brotherhood and its Islamist supporters.  The atmosphere of mutual distrust, political gridlock, and public dissatisfaction that permeated Morsi's presidency provided Egypt's military, led by then-Defense Minister Sisi, with an opportunity to reassert political control. On July 3, 2013, following several days of mass public demonstrations against Morsi's rule, the military unilaterally dissolved Morsi's government, suspended the constitution that had been passed during his rule, and installed an interim president. The Muslim Brotherhood and its supporters declared the military's actions a coup d'etat and protested in the streets. Weeks later, Egypt's military and national police launched a violent crackdown against the Muslim Brotherhood, resulting in police and army soldiers firing live ammunition against demonstrators encamped in several public squares and the killing of at least 1,150 demonstrators. The Egyptian military justified these actions by decrying the encampments as a threat to national security.
Religious Demography

The U.S. government estimates the population at 99.4 million (July 2018 estimate). Most experts and media sources state that approximately 90 percent of the population is officially designated as Sunni Muslims and approximately 10 percent is recognized as Christian (estimates range from 5 to 15 percent). Approximately90 percent of Christians belong to the Coptic Orthodox Church, according to Christian leaders. Other Christian communities together constitute less than 2 percent of the population and include Anglican/Episcopalian and other Protestant denominations, Armenian Apostolic, Catholic (Armenian, Chaldean, Melkite, Maronite, Latin, and Syrian), and Orthodox (Greek and Syrian) Churches. The Protestant community includes Apostolic Grace, Apostolic, Assemblies of God, Baptists, Brethren, Christian Model Church (Al-Mithaal Al-Masihi), Church of Christ, Faith (AlEyman), Gospel Missionary (Al-Kiraaza bil Ingil), Grace (An-Ni'ma), Independent Apostolic, Message Church of Holland (Ar-Risaala), Open Brethren, Pentecostal, Presbyterian, Revival of Holiness (Nahdat al-Qadaasa), and Seventh-day Adventist. Jehovah's Witnesses account for 1,000-1,500 people, according to media estimates, and there are also an estimated 150 members of The Church of Jesus Christ of Latter-day Saints (Church of Jesus Christ), the vast majority of whom are expatriates. Christians reside throughout the country, although the percentage of Christians is higher in Upper Egypt and in some sections of Cairo and Alexandria, according to religious and civil society groups. Scholars estimate that Shia Muslims comprise approximately 1 percent of the population, or approximately 1,000,000. Baha'i representatives estimate the size of the community to be between 1,000 and 2,000. There are very small numbers of Dawoodi Bohra Muslims, Ahmadi Muslims, and expatriate members of various groups. According to a local Jewish nongovernmental organization (NGO), there are seven Jews. There are no reliable estimates of the number of atheists or religious converts.
Warmth and Hospitality
Egypt has amazing natural, historical and cultural attractions, so tourism is one of the main sources of income, especially before the revolution. Egyptians are friendly, open to other cultures and known for their good hospitality, so do not be surprised if people invite you to their homes and insist that you accept the invitation.Egyptians also like to help people. It is very common if you ask someone for help or directions, they will call others to also help and make sure you get what you need or where you need to go.
Family
When it comes to family affairs, family is very important for Egyptians so they pay special attention to family values and relationships. This great blend between family members encourages children to live with their parents until they get married and then start their own families. Therefore, marriage rates are high and families encourage and financially support their sons and daughters to get married.Usually the responsibilities are divided so home and childcare are the main responsibilities for women, while men are responsible for supporting the family financially.Since family members are so connected, they deeply mourn the death of a family member. It is customary to wear only black for at least 40 days after a family member passes, and this duration can last up to a year. This is one of the traditions inherited from the grand pharaohs, and it is considered inappropriate to show any sign of happiness during funerals. In contrast, Egyptians like to throw big wedding parties, where they invite all family members and friends and hold big feasts.
Celebrations
Speaking of parties, Egyptians love celebrations. Close and extended family members and friends gather during holidays and special celebrations.Due to their love of food, all celebrations include sharing special meals prepared for the occasion. Women usually take pride in their ability to cook several dishes and compete among themselves for who makes the most delicious dishes. Restaurants are one of the most flourishing businesses as Egyptians like to try new cuisines and they appreciate a good meal
Summary
Egypt's long history, tourist attractions and geographic location make it an ideal destination for business and tourism. But before you visit or develop an Arabic translation strategy for doing business in Egypt, it's important to understand the culture and traditions and what impacts them.Egypt has been prey to many invaders throughout history, and recently, due to economic and political problems, but Egyptians have a strong sense of humor and they find humor in everything, including themselves. This is what keep us going despite all hardships.
Economy and Tourism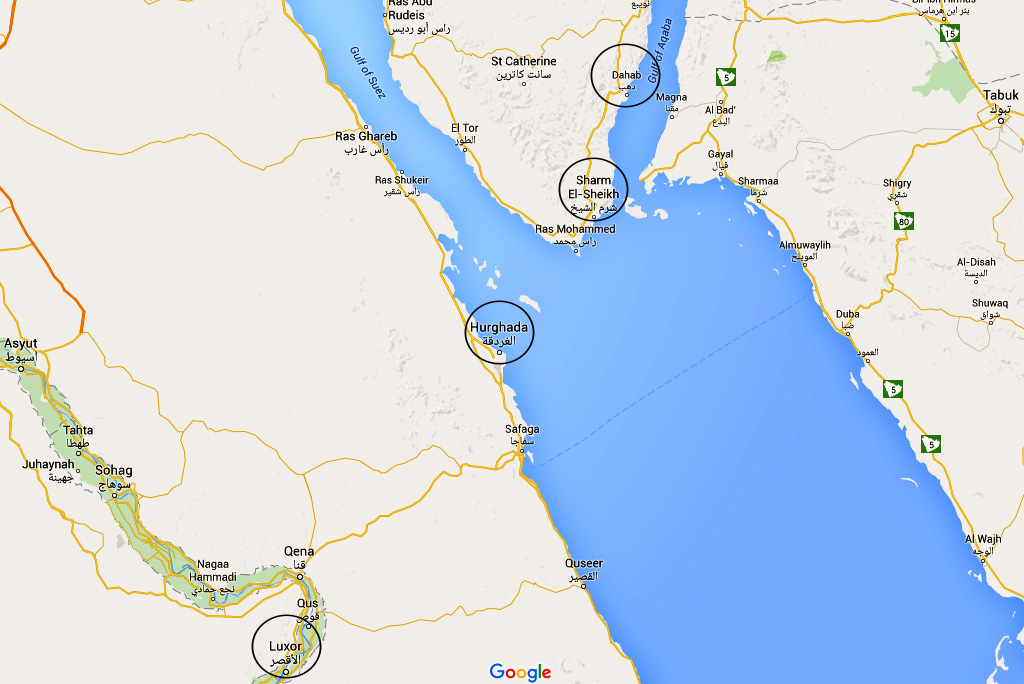 Highlights • The economic situation continued to strengthen. Real gross domestic product (GDP) grew by 5.6 per cent in the fiscal year 2018-19, the highest rate in 11 years; inflation declined markedly to one-digit levels; the fiscal and current account deficits narrowed; and unemployment has declined to its lowest level in eight years. • Reforms under the Egypt Tourism Reform Programme were reflected in an increase in competitiveness and attractiveness. Egypt had the fourth-highest performance improvement in the World Economic Forum's Travel and Tourism Competitiveness Index 2019, the World Travel and Tourism Council awarded Egypt the annual "2019 Global Champion Award" for promoting tourism resilience, the United Kingdom lifted flight restrictions to Sharm El Sheikh, and tourism revenues increased to US$ 12.5 billion in the fiscal year 2018-19; a record high. • Structural reforms have progressed strongly. The government has taken effective steps towards reforming energy subsidies, widening social protection coverage, strengthening tax collection, and deepening the efficiency of financial markets, in addition to amending the investment law. Key priorities for 2020 • Measures to improve private investment should be prioritised. The laws encouraging private participation in certain public-dominated sectors should be implemented, and interest rates – led by Central Bank of Egypt (CBE) policy rates – should continue to be lowered, in line with the decline in inflation. • Sustained and advanced implementation of structural and fiscal reforms is essential to consolidating the gains in macroeconomic stabilisation. Expected reforms in the coming year include conducting a medium-term revenue strategy, promoting a comprehensive privatisation of state-owned enterprises, improving the availability of and access to industrial land, reforming competition policies, and implementing e-public procurement. • Implementation of the National Water Resources Plan is needed to develop solutions for water scarcity. Egypt is already below the United Nations' water poverty threshold and is approaching a state of "absolute water crisis". There is an urgent need to develop nonrenewable subterranean water extraction methods, desalinate water, manage wastewater and ration water usage.
Education 
Improving both access to education and quality of education from basic literacy to tertiary education and vocation trading is key to the issue of state stability. In a 2015 report, UNICEF identified the profound and positive impact education has on the lives and outcomes of individuals, families and communities in terms of 'national income, economic growth and poverty reduction and in human development outcomes such as health, fertility, women's empowerment, risk management, individual and community resilience, civic engagement and increased tolerance'206. To that end, the EU should also focus a large component of its programmatic assistance towards supporting educational reform in Egypt that builds on current measures and programmes.